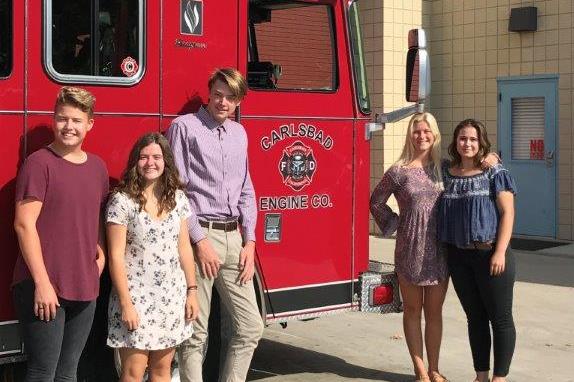 Read the original article on the Seaside Courier's website.
By Amanda Banion – August 1, 2017
The Carlsbad Fire Department Foundation says it recently awarded $21,500 in college (four) and vocational (one) scholarships for the upcoming school year to dependents of Carlsbad firefighters.
This year's four $5,000 collegiate scholarship winners include Robert Chumbley, an Escondido resident who is pursuing a Bachelor of Science degree in Psychology at the University of California at Santa Barbara; Samual Dumont  of Encinitas, attending the University of California at Irvine and majoring in Finance; Maile Davis of Carlsbad, pursuing a Bachelor of Science degree in Business at the California State University at San Marcos; and Dakota Dantzer, beginning her sophomore year at the Pacific University in Oregon with the goal of becoming a medical doctor.
In addition, Erin Chumbley was granted a $1,500 scholarship to attend Palomar College. She plans on going on to a four-year college, studying Hospitality and Tourism.
The Foundation on October 23 will host its annual golf tournament at The Crossings at Carlsbad to raise money to purchase supplemental materials and equipment needed by the Fire Department, and to fund more collegiate and vocational scholarships.
Over the last 12 months, the Foundation has procured three Chemical Detox Chambers for the department to reduce the risk of cancer among its firefighters, along with other needed materials and equipment.
The Carlsbad Fire Department Foundation is a 501(c)(3) non-profit charity founded by a small group of local citizens in February 2014. More information on the Foundation and the golf tournament may be found at www.carlsbadfdf.org.
Tax-deductible contributions to the Foundation's scholarship fund may be sent to the following address: Carlsbad Fire Department Foundation, 3451 Via Montebello, Unit 192-530, Carlsbad, California 92009.